Chief Financial Officer
Human Resources Manager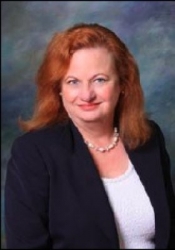 Ms. Rosslow is the Chief Financial Officer and Human Resource Manager of Protection Development, Incorporated (PDI) and has held that position since joining the Bob Andrews Group in 2006. In addition to her responsibilities with PDI, Ms. Rosslow serves as Chief Financial Officer and Human Resource Manager for Industrial Emergency Services, LLC (IES), IES Global Services, LLC (IEGS), and the Catalpa Falls Group, LLC (CFG).
Ms. Rosslow graduated from the University of Florida in 1971 with a Bachelor of Arts degree in Psychology and graduated from Nova Southeastern University in 1990 with a Master or Arts degree in Accounting. She became a Certified Public Accountant (Florida) in 1993. Ms. Rosslow is both a Certified Government Finance Officer and a Certified Professional in Human Resources.
From 1997 to 2005 Ms. Rosslow was employed by the Houston Fire Department, the fourth largest fire department in the United States. She was appointed Deputy Director, Finance and Administration in 2001, reporting directly to the Houston Fire Chief and working closely with the City Director of Finance and Administration. In her role as Deputy Director, Ms. Rosslow was responsible for budget preparation and management of a $323 million dollar operating budget, a $7 million dollar capital equipment budget, and a $40 million dollar capital project budget. She ultimately supervised 125 employees assigned to the Fire Department's Finance & Administration Command, which included the General Accounting Division, the Human Resources Division, and the Materials Management Division. These three major divisions were responsible for budget & financial reporting, internal audits, accounts payable, revenues, payroll, benefits, personnel administration, records management, risk management, recruiting, professional development, procurement, warehouse operations (including the EMS, Quartermaster, and Supply Sections), and the Air Pack Shop, for this fire department of approximately 4,000 employees.
While working for the City of Houston, Ms. Rosslow testified as an expert witness on payroll and labor management issues. She regularly interfaced with members of the Houston City Council, the Mayor's Office, and the City's Director of Finance and Administration as the Fire Department's representative. She was a member of the City's Steering Committee for the citywide implementation of SAP software.
In addition to her experience with the Houston Fire Department, Ms. Rosslow has served as the Chief Financial Officer of Apple Machine & Supply Company, Clerk / Treasurer of the St. Lucie County Fire District (Ft. Pierce, Florida), and Chief Financial Officer of Nichols Law P.L.L.C. (Houston).